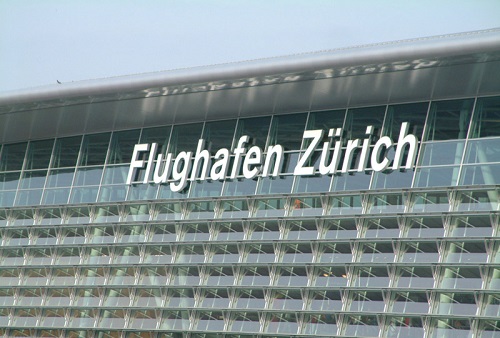 Overview
Zürich Airport (IATA Code: ZRH) is known by locals as the Zürich Kloten Airport, the largest international Airport in Switzerland. The airport is equipped with three runways and two terminals serving approximately 25 million passengers a year.
Brief History
The first flights leaving Zürich International Airport departed in 1948, with a new terminal opening in the early 1950s. Throughout the following decades, Zürich International Airport has experienced a number of expansions with construction of terminal B completed in the early 1970s. Interestingly, complaints regarding noise despite a nighttime curfew instigated in 1972 initiated an agreement with German airspace regarding arrival and departure flights via German airspace. The Zürich Airport underwent another huge expansion project in 2003 with the construction of a new midfield terminal, automated underground train, and new parking garage structure.
Facilities
Zürich International Airport provides a number of assistance, services, and facilities for travelers. Services for passengers include money exchange services, ATM machines, layover lounges, and VIP services. A number of shops and restaurants are located inside the terminals. The passenger area offers a variety of traditional and duty-free shopping, restaurants, cafés, and bars. Food and dining options include Swiss cuisine from Chalet Suisse to Burger King. The Sports Bar, the Montreux Jazz Café, and la Corbeille provide a variety of beverages, coffee bars, and sit-down as well as take-away dining options. Over 50 shops are located in the terminals, including Bally Fashion and shoes to Gucci to duty-free stores that are located near most gates.
Car Hire Services
Car hire rental desks at the Zürich Airport are easy to access. The car hire center is located on Level 1 at the airport center, open from 6:00 a.m. to 11:30 at night. Be aware that while the car hire center is open for the mentioned hours, that some carriers may only operate the desks based on flight schedules. The rental desks are easy to locate by passengers and are accessible by foot.  Major carriers at the Zürich International Airport include: http://www.carhirezurich.net and www.car-hire.net.
It is recommended that passengers pre-book car hire during heavy summer or other common vacation timeframes throughout the year in order to ensure a car will be available when you land.
For additional information about Zürich International Airport services contact them at their website at www.zurich-airport.com or by calling them at + 41 (0) 43 816 22 11. The airport is located at 8058 Zurich-Flughafen, Switzerland.